Recycling the wheels of the bicycle is also valid and you get some very nice decorative accessories. We show you everything you can do with recycled bicycle wheels.
Get inspired by our selection of images to decorate your home by recycling. Create unique, original and cheap objects from the wheels of the bikes you remove from children, or old bikes, or inherited bicycles.
Recycled Bicycle Wheels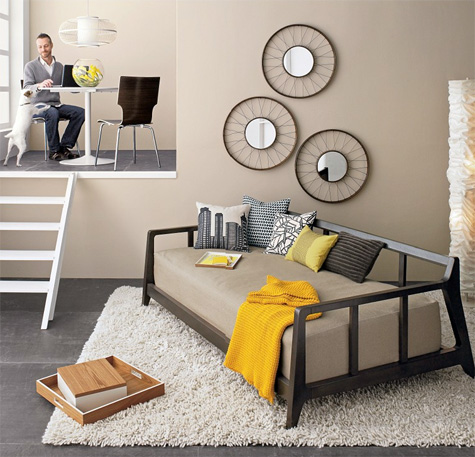 Can you imagine everything you can do with recycled bicycle wheels? Well, it is not necessary that you imagine it because we already tell you. One of the projects we like the most is to transform the wheels into a mirror. We love the result and we wonder how this project would look with wheels of different sizes.
With a bicycle tire you can also make a large wall clock.
Or an organizer for your kitchen utensils, saucepans, pots or pans.
Look how impressive this lamp created with bicycle wheels.
And if you are a person with a great sense of humor you can always give life to some creature from recycled wheels and decorate the fence of your garden.
Another clock option with numbers on the wall instead of on the wheel.
We continue with more ideas for DIY lovers. What opinion do you deserve this turntable? You will not deny me that it is the most original. Perfect for a big family or for restaurants.
With bike tires you can simply decorate a wall. And if you also place a garland of lights the result is super artistic.
You can also use your recycled bicycle wheels to support your best photos.
And two more ideas to decorate your garden with grace and bike wheels!
Make a mirror with a bicycle wheel
Our reader Mireya asked us for help to make a mirror from a bicycle wheel. We have found a fantastic tutorial that we want to share with her and with all of you. You will see how easy it is to decorate your home with recycled bike wheels. You have a videotutorial in ideatumism
Bicycle wheels decorated with flowers
But how beautiful! Just like that, bicycle wheels decorated with flowers are a very special element. Add an exclusive touch to your entrance door, to a wall of your home, your garden or a party or celebration. If you want to decorate with flowers bike wheels we give you some simple tips.
Do not forget to clean, sand and paint your wheel before starting your decoration. There are specific products to remove rust if necessary. You will find everything you need in any DIY store. If in doubt, ask the professional sellers. They will advise you about the materials and also give you realization advice.
When choosing flowers to decorate your bicycle tire, opt for synthetic flowers if you are going to use your creation to decorate the interior of your home. It will stand the test of time and you will only have to dust every once in a while.
To decorate wheels for celebrations or gardens you can use natural flowers.
A beautiful composition of wheels and flowers on the tables.
Or used to expose the distribution of the tables of a banquet.